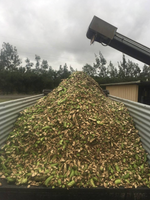 Food Sustainability
Roughly 100, 000kg of edible fruit will be converted into landfill each week.
When food rots in landfill it lets off methane, which is 25 times more potent than CO2 produced by cars.
Taste Before Waste is about supporting our community, the environment & farmers by providing seconds fruit fresh from the farm.
Our Service
We can deliver weekly to your door - servicing; Tully Heads to Northern Cairns including the Atherton Tablelands. 
We've just reached Townsville - servicing every 3 weeks.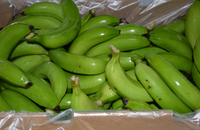 Taste Before Waste
Our bananas are Eco!
You may have seen our red tipped bananas in grocery stores! The Ecoganic™ farming system we created to grow our signature, wax tipped bananas means we farm in harmony with nature.
Rather than relying on chemicals (synthetic or organic), we choose to employ all of nature's creatures (big and small) on our farm to grow our bananas slowly, carefully and sustainably.
Testimonials
When I heard about taste before waste I couldn't wait to order. I love the whole concept of the ecoganic farming together with reducing waste. The bananas not only taste amazing but are delivered to the door for a great price.
Thanks

Andrea
We are on a mission to reduce waste wherever possible, and that includes food waste.
When we heard about Taste Before Waste and what they were doing, we knew it was a business we would love to support.

Alana and Jake deliver bananas that are "not perfect enough" for the supermarkets, but perfect enough for anyone wanting spray free, fresh picked local, delicious and nutritious bananas.

For only $10 they deliver a 13kg box of their delicious seconds bananas to our door.
It's the most amazing deal ever, not only do we get to enjoy their amazing bananas, it also saves imperfect bananas from becoming landfill, something we feel really good about.
Jamie and Anne Ah Gee



Kuranda Urban Farm
These bananas are amazing ! Super tasty & sweet. Fantastic price, environmentally friendly and delivered right to your doorstep. Awesome customer service too. Thank You!

Maryke